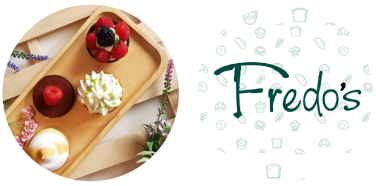 fredosbaker.com.sg
Fredo's baker is a customer-focused bakery
– passionate to bring quality bakes with love to more people.
The owners and staff greet every customer with a smile, and try to make every visit memorable for their customers
– which makes them enjoy a loyal customer base.
At a Glance:
Advocado helped Fredo's Baker to:
Seamlessly reward & delight their customers
Track sales & company's growth
Increase new & returning customers by more than 60%
"It was challenging to reach out to customers and getting them to come back! There was no platform to track growth and sales too!"
– Agnes (Fredo's Baker)
They did not have a way to recognise their loyal customers – and needed a system to manage and bring these customers back.
Hence, they
Struggled to have constant flow of customers
Faced difficulty to attract and retain customers
No platform to keep track of growth and sales performance
"Our customers have not been constant before Advocado but notably in Sep 2019 when we rolled out the loyalty points campaign system! We have seen a steady increase in our customer base each and every week."
– Agnes (Fredo's Baker)
They took up Advocado with the intention to:
Reward their customers based on spending
Better track their customers, sales & company growth
Understand their regulars – and how regular they are
Re-engage the customers and make them come back continuously
Increase revenue
"Advocado brought about at least 50% more customers and this certainly made us feel encouraged as it has boosted sales figures and the morale of the entire staff!"
– Agnes (Fredo's Baker)
With Advocado, Fredos' Baker can easily reward and delight their customers – helping them to stay true to their company's mission of being customer-centric.
Now, not only do they know their customers, but they also know how to re engage them and bring them back to the Bakery. The results of their campaigns were amazing:
61%

average monthly growth rate of new customers

63%

average monthly growth rate of returning customers
Build your brand
loyalty and turn your
customers into

Advocades!